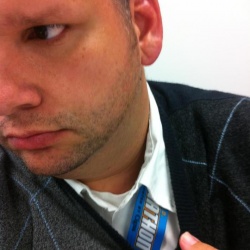 Job title:
Internet Marketing Coordinator
Organization:
LittleWookē.com / Florida Hospital Medical Group
Interests:
Singing, piano, paddle boarding, crossfit, weight loss, women, bicycling.
Bio:
I'm a front-end developer in training. Constantly learning. Currently I work in digital marketing for Florida Hospital Medical Group and have deployed and maintained over 120 physician websites via Acquia's Drupal Gardens platform.
On the side, I've started a freelance web business with my close friend, Sean. I'm a creative type, the son of a music teacher. I've been a professional opera singer, balloon artist, magician, chef and now I've moved my talent toward web design and development.
Since 2010, I've lost 107 pounds. I'm a dedicated Crossfit junkie and I write a blog to chronicle my days in the gym (http://back2thebadass.tumblr.com).
I'm a single father of one beautiful padawan princess and she's used her jedi mind trick on me to convince me to watch one too many episodes of My Little Pony...yes...I've even seen Equestria Girls.